The Pavilion at Montage Mountain | Scranton, Pennsylvania
It's time for the hard rock show of the summer as Shinedown & Godsmack bring fifty shades of utter chaos to Pavilion at Montage Mountain on Friday 31st August 2018! These mighty touring acts will be performing from their respective new albums, with a full headlining set from each iconic band!
"The audience has given us a platform to be ourselves and create something spectacular. That being said Shinedown and Godsmack will most certainly not let them down," says Shinedown frontman Brent Smith.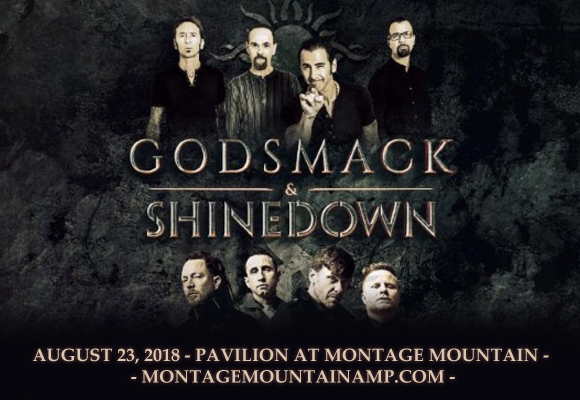 In 2001, after his previous band, Dreve, was dropped by Atlantic Records, singer, songwriter and musician formed American rock band Shinedown. Still under contract with Atlantic, Smith recruited several members to form the band whose debut album, Leave a Whisper, was released in 2003. Launching the singles "Fly from the Inside," "45", a cover of the Lynyrd Skynyrd song "Simple Man", and "Burning Bright", which all charted in the top five of the Billboard Mainstream Rock chart, the album was well received commercially, eventually receiving platinum certification from the RIAA. Shinedown has charted eleven number one singles on the Billboard Mainstream Rock charts to date, the third most of all-time, and the band has sold over ten million records worldwide.