Pavilion at Montage Mountain | Scranton, Pennsylvania
Have you got a little southern drawl in your talk? A little boot stomp in your walk? If your answer is a resounding 'yes', then you must be 'Raised on Country' ! If you've really got the country DNA in your blood, then you must be thrilled to the bone right now as Nashville Star winner and American country star Chris Young announced his 'Raised On Country' tour coming just 'round the neck of the woods on Friday 21st June 2019, at the Pavilion at Montage Mountain. Joining him on the road is fellow-country star Chris Janson. True-blooded country music enthusiasts are not wasting any chance of getting first dibs on tickets to the show. Well, demand for this show doesn't only come from the country-side. Fans from other 'music playlists', so to speak, are getting hooked and are also clamoring for tickets. Hurry, book your tickets now!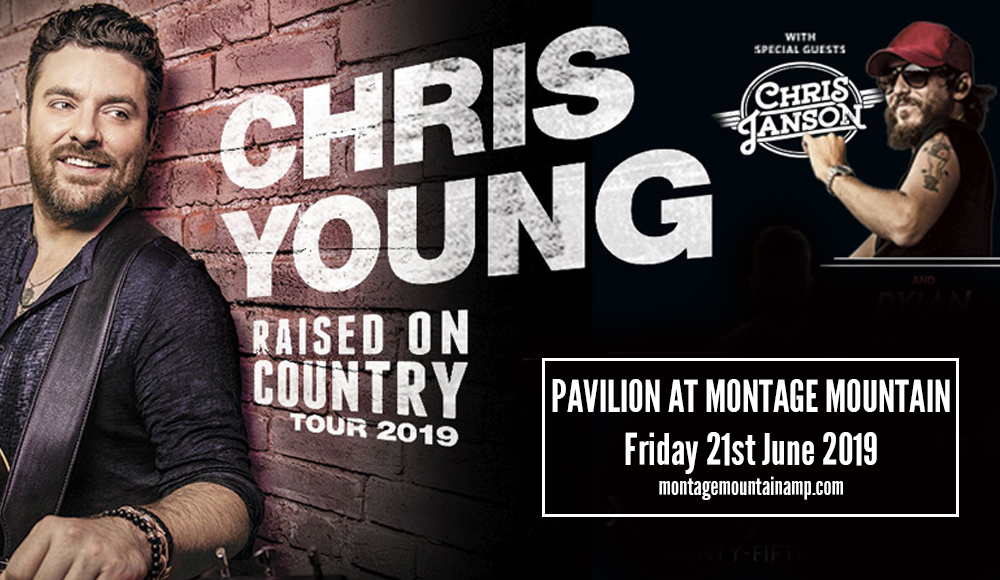 His powerful yet smooth, velvety baritone voice gave him that much-deserved win at the television reality competition show – Nashville Star. As he clinched the season's title, he also received a recording contract from a major record label. Chris Young then released his eponymous debut album which spawned hits like "You're Gonna Love Me" and "Drinkin' Me Lonely." From there, Chris went on from being a Nashville star to one of country music's current roster of brightest stars. His succeeding album which dished out smash singles "Gettin' You Home (The Black Dress Song)" and "Voices", triggered an onslaught of followers, a long string of gigs and top-tiered venue live shows and more chart-topping singles which include "I'm Comin' Over," "Tomorrow" and "The Man I Want to Be." He has released five studio albums to date, and has brought home awards like American Country Awards for Breakthrough Artists of the Year (2011) and Single of the Year (2011), as well as a British Country Music Association award for International Act of the Year (2012).
And with a new album out and one of the catchiest songs around that literally gives everyone an earworm, this 'Raised On Country' singer is raring to get on the road and start one big sing-along party for everyone.
"I haven't done a complete overhaul in two years," he said. "We went from the ground up and revamped everything. It's a completely new tour," says Chris. "Last year on the road was incredible and I'm crazy excited to get back out there with new music and the 'Raised On Country Tour' and to have Chris Janson, Dylan Scott, Jimmie Allen and Preston and Chris from LOCASH join me on tour."
If country music indeed is in your blood, runs in your veins, or simply gives you a reason to smile, then head on down for tickets and catch Chris Young, live!