The Pavilion at Montage Mountain | Scranton, Pennsylvania
EVENT RESCHEDULED TO SATURDAY 25TH SEPTEMBER 2021. Originally Saturday 14th August 2021. All original tickets are still valid!
Ladies and Gentlemen, Boys and Girls, gather round for the Rock concert to end all rock concerts, the end of your lockdown is neigh! Korn and Staind are rocking out the Pavilion at Montage Mountain on Saturday, August 14th, 2021. So, come on Pennsylvania, get your rock boots on, dig out those old 90s grunge t-shirts and come on down to Montage Mountain for a night of hard core rock and metal! Buy your tickets right here. This tour marks the first time you get to hear the new album, The Nothing, from Korn live, as last year's tour was sadly, cancelled.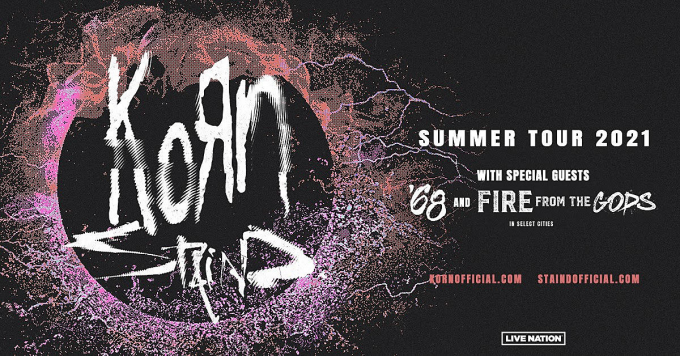 The Nothing, released in 2019, garnered Korn their 14th top 10 entry on the Billboard 200 chart. "On this album, death is a theme that runs through the whole thing. It's this entity, this force, which made me deal with depression, pain, suffering and trying to come to terms with it. It's me grieving. It was very emotional; I was crying and s***," said Korn singer Jonathan Davis to Billboard back in 2019. Korn is the pioneer American nu metal band from Bakersfield, California, consisting of founding members James "Munky" Shaffer on rhythm guitar, Reginald "Fieldy" Arvizu on the bass guitar, Brian "Head" Welch on lead guitar, and lead singer Jonathan Davis on bagpipes, with the addition of Ray Luzier on drums.
Live: It's Been Awhile, the bran-new live album from Stained is out now! The album features 15 tracks and the band's landmark single "It's Been Awhile," obviously. It's Been A While, was the lead single from their album, Break the Cycle, from 2001, the song is Staind's most successful and is their best-known song, becoming a No. 5 hit on the Billboard Hot 100, their only song to reach the top 10. Staind are lead vocalist and rhythm guitarist Aaron Lewis, lead guitarist Mike Mushok, bassist and backing vocalist Johnny April, and drummer Sal Giancarelli.