The Pavilion at Montage Mountain | Scranton, Pennsylvania
Nu-Metal pioneers Korn are coming to the Pavilion at Montage Mountain on Thursday August 27th 2020! Korn and joint headliners Faith No More will be joined by special guests Scars on Broadway and Spotlights. Korn and Faith No More are two of the biggest names in rock and metal, and fans won't want to miss the co-headlining performance here at the Pavilion at Montage Mountain so buy your tickets now for one of the heaviest rock nights of the year!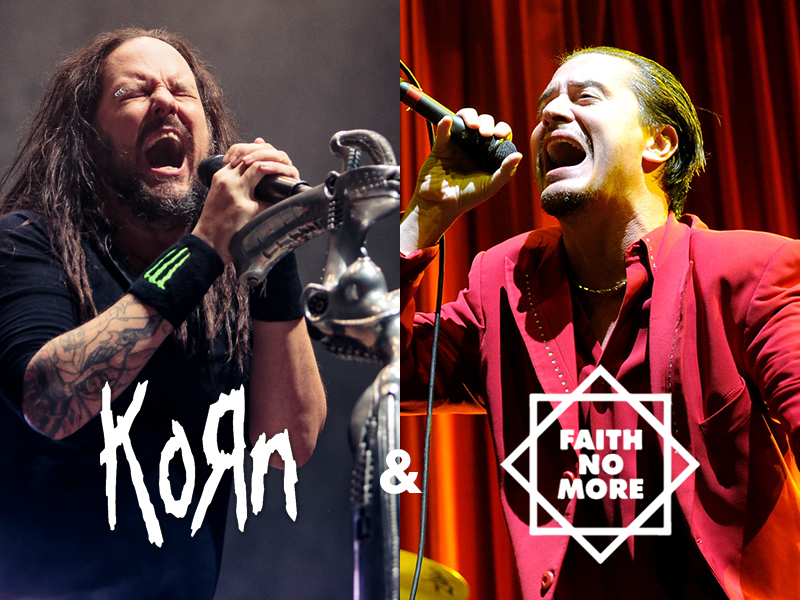 Korn are founding members James "Munky" Shaffer playing rhythm guitar, Reginald "Fieldy" Arvizu playing bass guitar, Brian "Head" Welch playing lead guitar and on backing vocals, and Jonathan Davis on lead vocals and playing the bagpipes, with the addition of Ray Luzier playing drums. Regarding their influences, bassist Fieldy stated "The Rolling Stones, Led Zeppelin, those bands haven't influenced us in any way. Nobody in the band ever listened to that stuff. Our musical history starts with the Red Hot Chili Peppers and early Faith No More. As a band, that's where we begin." Their lyrics focus on pain and personal alienation rather than traditional heavy metal themes, lead singer Jonathan Davis commented, "Yeah, we're heavy and downtuned, but metal, to me, is like Judas Priest and Iron Maiden, that's metal man. I always thought of us as a funk band."
Faith No More consist of bassist Billy Gould, drummer Mike Bordin, keyboardist/rhythm guitarist Roddy Bottum and new members lead guitarist Jon Hudson, and vocalist/lyricist Mike Patton. While Faith No More's music is generally considered as alternative metal, experimental rock, and funk metal. Rolling Stone states that during the late 1990s, the band were "too heavy for the post-grunge pop hits of The Verve and Third Eye Blind and too arty to work comfortably with the nu metal knuckle-draggers they spawned."