Pavilion at Montage Mountain | Scranton, Pennsylvania
HUGE news, metal fans!! On Friday 17th August 2018, none other than Five Finger Death Punch, accompanied by Breaking Benjamin will arrive at the Pavilion at Montage Mountain!! Both bands have new albums waiting in the wings… it's going to be an epic show full of all-new material!! Fans of either band can't afford to miss this – grab your tickets today for your chance to see Five Finger Death Punch and Breaking Benjamin LIVE!!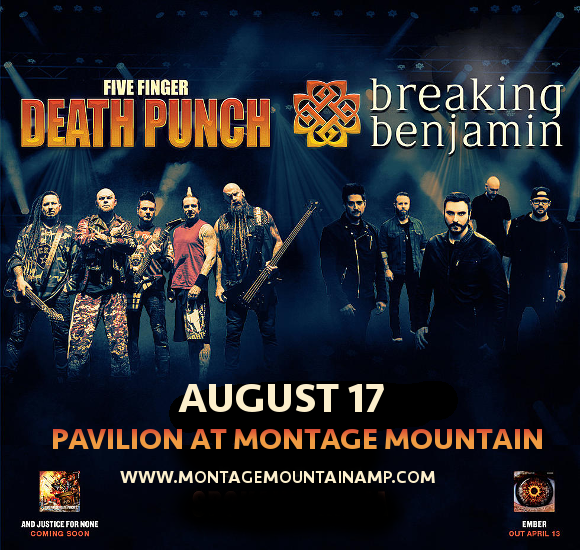 Five Finger Death Punch's new album comes after some tough times during their European tour where singer Ivan Moody was unable to play some shows due to his struggles with alcohol. Now, the band are fighting fit and back in the game. "Things are incredible right now," bassist Chris Kael enthused in an interview. "Obviously, we've had some things go over the last year that has made it all across the news everywhere in rock and metal. But right now Five Finger Death Punch is the strongest this band has ever been — from personal relationships to the way we're playing on stage to the set…You know, they always talk about having to go through the storms to get to the sunshine and the rainbows, and I think that's definitely happened."
The new album, "And Justice For None," is scheduled for release on May 18 – that's plenty of time to make sure you're word-perfect to all the songs before the gig!! What are you waiting for?? Those tickets won't last – grab yours NOW!!