The Pavilion at Montage Mountain | Scranton, Pennsylvania
Alternative rock fans, prepare for some epic news!! That's right, Breaking Benjamin are back on tour, and this time they're teaming up with an awesome touring line-up comprised of Chevelle and Three Days Grace!! They're bringing the show to the Pavilion at Montage Mountain on Saturday 10th August 2019 – don't miss this!! Get your tickets to see Breaking Benjamin NOW while they last!!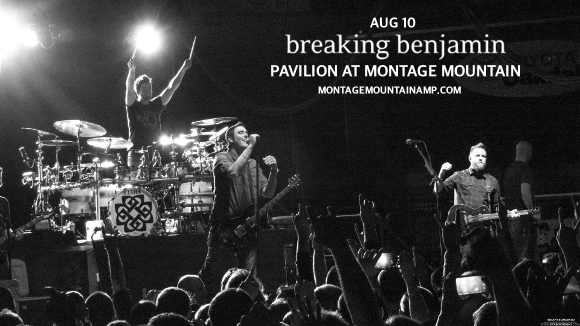 Over the past couple of decades, Breaking Benjamin have established themselves as one of the bands at the forefront of the alternative rock genre. The latest album, "Ember," has been praised across the board by critics as one of Breaking Benjamin's best, with many taking note of the much heavier tones of the latest album in comparison to the band's previous work. "We just stay true to what we do," was Benjamin Burnley's simple answer when asked about the slightly different sound of the new album. "We do what we like and we write music that we like to hear – and there's a lot of fans that agree with what we like, so it works out that way. We don't really try to make any conscious effort to change to fit in, or anything like that… We have a song on the new album called "The Dark of You," it's very different for us…Those songs are very different for us but those songs are what they are and we didn't try to make them different, they're just different because that's what the song called for."
Fans are loving the latest sounds – both the familiar and the new! We're super excited to hear them all live – are you?? If so, then you'd best make sure you get those tickets quick, because they aren't expected to last long!!